21 June 2017
The SAGA Technologies JSC has won a tender of the Eastern Bank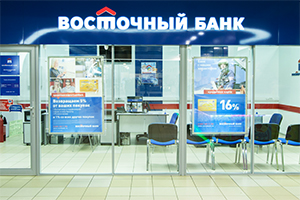 The SAGA Technologies JSC is glad to announce the victory in a tender for supply of automatic client service complexes arranged by the Eastern Commercial Bank JSC. Our proposal for supply of terminals has been considered the best according to all criteria
SAGA Technologies is one of the leading Russian manufacturer of hardware and hardware-software complexes and self-service devices. Our products are well-known for quality, modern design, user-friendly interface, this, combined with reasonable price, supply terms and maintenance service, renders it attractable not only in the Russian market but also in the CIS and foreign countries.
The SAGA Technologies product has proved itself in banking industry. Nowadays the SAGA hardware-software complexes and self-service devices (kiosks, cash-in / cash-out payment terminals, ATMs) and solutions for business automation such as the SAGA queuing system, automation and control systems operate in many banks and other commercial bodies and public institutions.
The hardware-software complexes, self-service devices and manufacturing automation systems by SAGA Technologies are a completely Russian design, the hardware part has been developed by our engineering office, the software has been created by the SAGA Technologies IT-department. This enables a flexible approach according to each customer's requests. The salient feature of our products is that it is capable of full integration in the customer's IT systems. This option is originally included in the architecture of the hardware-software complexes created by the SAGA Technologies JSC.
All SAGA Technologies products are manufactured in Russia on the company's production assets.
The Eastern Commercial Bank PJSC was created in 1991 in Blagoveschensk. Now this banking institution has a network which comprises more than 700 offices throughout the country. In 2017 the Uniastrum Bank joined the Eastern Commercial Bank. The bank is in the list of 100 most reliable Russian banks according to the Forbes magazine.
The SAGA Technologies JSC is glad to cooperate with the Eastern Bank.
Source: The SAGA Technologies press relations service