23 October 2017
The «Embedded Technologies 2017» conference took place in Moscow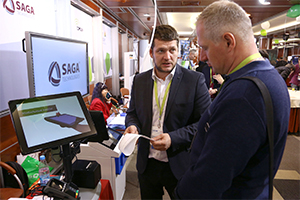 On October 10, 2017 the 10-th «Embedded Technologies and the Internet of Things 2017» conference took place in Moscow. The event is annually arranged by the Quarta Technologies company
Among the sponsors of the conference are the largest Russian and international companies – Microsoft, Intel, SECO, Shuttle, Advantech, Kaspersky Lab, EmbeddedSystemsRus and others. The SAGA Technologies JSC has joined the ranks of the Partners of the conference again.
More than 450 agents of manufacturing companies, systems integrators, software designers, educational institutions, as well as the agents of industrial, banking sector enterprises, retail business, security and many other fields. 26 reports on the subject of intellectual systems designing and the Internet of Things, more than 40 solutions by the partners and clients of Quarta Technologies were announced. As in the previous years, the SAGA Technologies has introduced its newly developments to the participants and guests of the conference on its own mount.
«The conference is aimed to promote Russian research in the field of the Internet of Things and intellectual computer systems by giving the area for communication of the leading manufacturers, vendors, integrators and the potential customers of these technologies» – Valery Drobyshevsky, the Quarta Technologies business development director comments..
Usually, the intense interest of the guests was attracted by the exhibition of intellectual devices and solutions by different manufacturers. This year about 30 companies took part in the exhibition, including Shuttle, Advantech, SECO, Embedded Systems Rus, Intel, ATOL, SMT Engineering, RTSoft, Polymedia, Prosoft, SAGA Technologies, BM Group Innovations Factory, Touch Plat, Pilot, Addreality, Gamma-Centre, Strizh Telematics, Acronis, Prestigio, Abac-2000, HoloGroup, CVizi, Korson Technologies RUS. The companies presented to the visitors both complete solutions and software and hardware components for creating of modern «smart» devices. All the solutions are based on the Microsoft technologies – Windows Embedded/IoT and Microsoft Azure.
The participants noted the practicality and utility of the reports presented at the conference as well as the high level of event arrangement. The SAGA Technologies business development director Oksana Kalashnikova responded about the participation in this meeting: «We do not only see the value of these conferences, we feel it with all of our company's «being». On these events we can meet with partners, exchange experience and learn new knowledge in the field of using any given products».
The review of the new version of the SQL Server database platform, its new possibilities and key improvements. In Russia the release of SQL Server 2017 is announced on November 2, 2017 and the visitors of the E.DAY 2017 conference learnt about this new platform before the rest.
You can learn more about the results of the conference on the official website.
Source: The SAGA Technologies press relations service following embeddedday.ru