15 October 2020
Blendid opens robotic food kiosk at California Walmart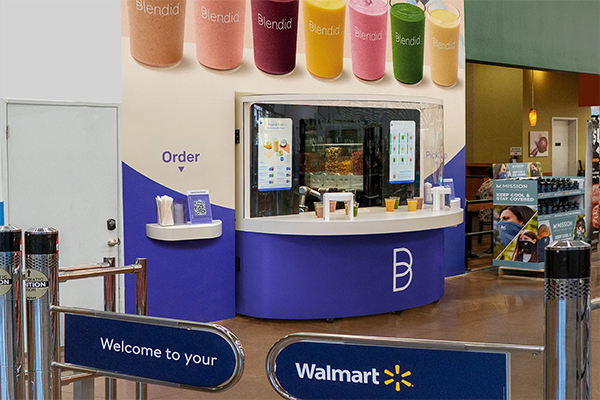 Blendid, an autonomous and contactless food automation platform that leverages machine learning, robotics and artificial intelligence to create smoothies, made on-demand, has installed its fourth robotic food kiosk at a Walmart in Fremont, California, according to a press release.
«Our newest location within Walmart is completely contactless from order to pickup and will be a healthy, quick, tasty and affordable option for customers on-the-go. We are continuing to grow, learn and adapt to the evolving needs of the future of foodservice,» Vipin Jain, CEO and co-founder of Blendid, said in the release.
Blendid's stand-alone, contactless kiosk includes a robotic arm, blenders, a refrigeration system and numerous dispensers that store and dispense a variety of ingredients including solids (such as fruits and vegetables), liquids (such as coconut water), and superfoods (such as chia, flax and ginger).
Blendid's proprietary food operating system processes the orders and payment, measures and dispenses precise amounts of ingredients for customized drinks, and blends, pours and stores each smoothie until a consumer is ready for pickup. The Blendid system can process up to 45 drinks an hour and nine drinks simultaneously.
Blendid's nutritionists and chefs have created a variety of recipes for the Fremont and Walmart community that are all 100% plant-based, vegan and gluten-free.
The Blendid kiosk in the Fremont Walmart location at 44009 Osgood Road will be open seven days a week from 10 a.m. to 7 p.m. Consumers can place orders in person at the kiosk with their smartphone or they can order ahead with the Blendid app for a cost of $4.97-$5.97 per 12-ounce drink.
Source: Kiosk Marketplace