29 November 2019
Hang Seng brings mobile ATM withdrawals to Hong Kong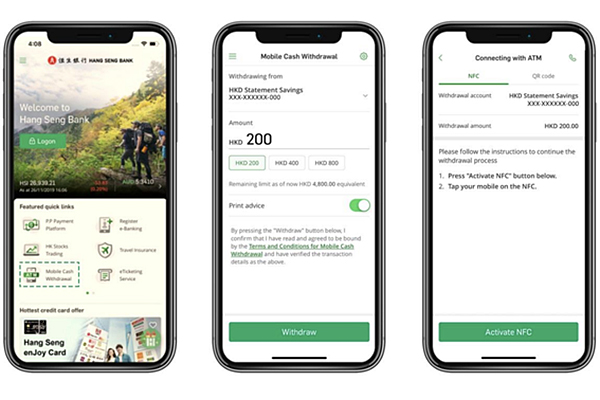 Withdrawing cash from one of Hang Seng Bank's 600 ATMs in Hong Kong will soon be as easy as using a mobile phone to tap an NFC device or scan a QR code.
In early December, Hang Seng, one of Hong Kong's most extensive banking networks, will launch a mobile cash withdrawal service, making it the first bank in Hong Kong to offer the use of NFC technology for ATM cash withdrawals, according to a company press release.
Hang Seng customers will be able to initiate cash withdrawals on their mobile phones by using the bank's mobile app. After that, they can collect their cash at a nearby Hang Seng ATM using the ATM's QR code or NFC connection to complete the withdrawal, which will be included in the HK$10,000 ($1,280) daily limit for small-value transfers. The user then receives an SMS or email notification when the withdrawal is complete.
«We are excited about introducing NFC technology into our customers' banking experience, offering them even greater choice and convenience,» Margaret Kwan, the bank's executive director and head of retail banking and wealth management, said in the release.
At launch, all Hang Seng ATMs will support QR code cash withdrawals and over half will support both QR codes and NFC cash withdrawals, the bank said. It will extend NFC connectivity to all ATMs in the first half of 2020.
Source: ATM Marketplace