26 September 2019
The 11th International PLUS forum will take place in 5 days
The 11th International Forum named «Self-service in banking, retail and cash circulation» will take place in Moscow, Sokolniki, on October 2 and 3.
#CASHFORUM will be dedicated to the current status and the prospects of cash circulation, banking and payment industry in Russia as well as in the EEU and other countries.
The key topics of the PLUS forum this year will be:
Cash circulation. Banks, trade retail, customer.
Digitalization of cash circulation. Aims and objectives. Cash in new realities.
Financial technologies boundless.
Online encashment. Cost reduction.
Safety 2019.
Bank infrastructure in the digital era.
Business and technologies – new opportunities.
Projected business cases

Purchase with cash issuing. Aims, results, prospects.
Cash management.
Examples of encashment for SMB and others.

Executive session: «Protective features of banknotes and operations with them. Examples of counterfeit detection. Problems and ways of solution».
Masterclass: «Advanced patterns of development of the bank offices».
On the sidelines of the conference, the show of equipment, technologies and business solutions will be held. Over 50 leading Russian and foreign companies will present their equipment on this show. The SAGA Corporation will traditionally be one of the most active participators.
We invite our colleagues, friends and partners to attend the 11th International Forum «Self-service in banking, retail and cash circulation» and see our products. We will be glad to see you on the SAGA island booth No. 30-33!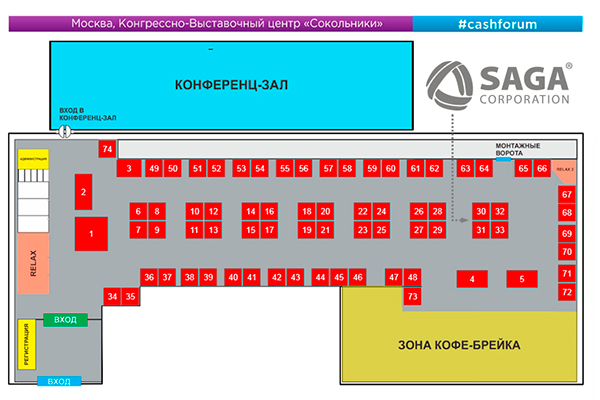 The photos from the PLUS forum were used in this content.
Source: The SAGA Corporation press relations service