27 November 2019
Retail Business Services teams with UST Global on unattended store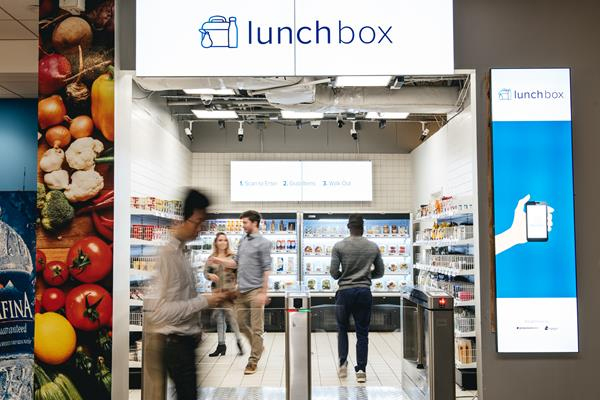 Retail Business Services, the services company of Ahold Delhaize USA, has announced a frictionless store technology, piloted under the name lunchbox, which enables individuals to shop a small format store in seconds by scanning in, shopping and walking out, according to a press release.
The technology is currently being tested in Retail Business Services' Quincy, Massachusetts office.
Retail Business Services partnered with UST Global, a digital solutions company, to develop the store. Retail Business Services led application development, technology connectivity and provided food retail operations expertise, while UST Global and its partners provided the artificial intelligence technology solution and physical infrastructure. The technology will be shown at the National Retail Federation Big Show in January in collaboration with UST Global and Intel.
«Lunchbox is an easy, fresh shopping alternative,» Paul Scorza, executive vice president, IT and CIO for Retail Business Services, said in the release. «Once registered, shoppers simply scan in, shop and walk out. It's that easy. And it offers fresh, healthy options 24/7. You can grab a snack, a salad, fresh fruit or even a carton of milk on your way home.»
The application technology for lunchbox, created in Retail Business Services' innovation lab and tech hub, is powered by a Retail Business Services' proprietary app, which admits shoppers to the store and charges shoppers for purchases. For ease of payment, services such as PayPal, Venmo, Apply Pay and Google Pay are integrated into the wallet.
Inside the store, AI running on Intel Core i5 and i7 processors-based systems optimized with the Intel Distribution of OpenVINO toolkit detects which products are being removed from shelves in the store and anonymous body skeletal tracking connects the right products to the right shopper. The Intel Distribution of OpenVINO toolkit enables lunchbox to use existing Intel-based point-of-sale systems and deploy on-premise AI.
«In the age of e-commerce, there are many opportunities for companies to evolve and better serve shoppers,» said Mahesh Athalye, senior director at UST Global, in the release. «Combined with AI/ML technology and purpose-built smartphone applications, solutions like lunchbox will help deliver frictionless experiences for shoppers seeking a quick, touchless experience.»
Source: Kiosk Marketplace