2 December 2019
Purolator installs one-stop 'shop and ship' kiosk at Toronto mall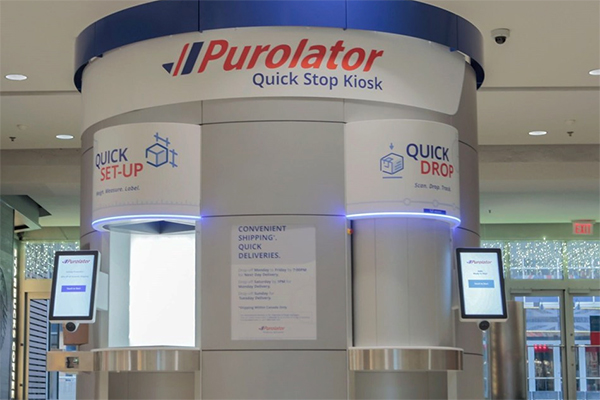 Purolator has unveiled its Quick Stop Kiosk that allows shoppers to buy gifts and ship them from a convenient location at the CF Toronto Eaton Centre.
«We're excited to be the first company in Canada to bring this revolutionary level of consumer experience to shoppers through Purolator's Quick Stop Kiosk,» John Ferguson, Purolator president and CEO, said in a press release. «We're thrilled to partner with Cadillac Fairview and Ravel by CF to provide consumers a convenient and seamless experience that makes their busy lives easier.»
«Our holiday programming is focused on providing shoppers with inspiration and efficiency and this unique concept helps us support guests throughout their shopping journey – from discovery right to delivery,» said Jose Ribau, executive vice president, digital and innovation, Cadillac Fairview, in the release.
In just minutes, consumers can prepare and ship packages directly from the CF Toronto Eaton Centre. Shoppers create a shipping label; pay with debit, credit, Apple or Google Pay; place their package into the unit; and print a receipt for tracking. Purolator account customers can also drop off prepaid Purolator shipments to save time.
As part of the pilot, Purolator is hosting a holiday pop-up event at the Quick Stop Kiosk in CF Toronto Eaton Centre on Dec. 10 from 9:30 a.m. to 1:00 p.m. Limited-edition collector holiday shipping boxes, designed by Canadian artist Sarah Skrlj, will be available for customizing.
Shoppers can choose from one of four designs, each representing a different iconic Canadian landscape, and personalize them with their own unique touches. The boxes allow customers to skip gift wrapping altogether and deliver their gifts directly from store to tree.
The self-serve kiosk will be piloted until Dec. 29.
Source: Kiosk Marketplace