13 January 2020
Pyramid Computer introduces self-scan kiosk and gift card kiosk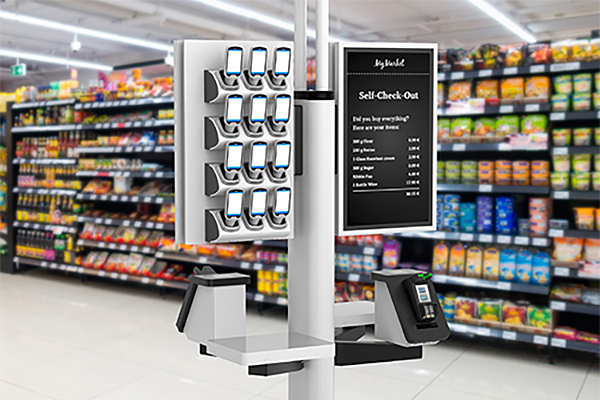 Pyramid Computer has introduced a self-scan kiosk and self-service gift card kiosk, both of which will be displayed at the National Retail Federation show in New York City this week, according to a press release.
The self-scan kiosk demonstration is designed to show retailers the latest innovations in scan-as-you-shop, combining a polytouch 32-inch double-sided kiosk with handheld scanners from Zebra and self-scanning software from Re-Vision/InTouch.
The self-checkout terminal is equipped with a printer, payment module and optional scale. Thanks to the optically bonded displays, there is a reduction in reflections, increased light yield and better legibility. In addition to customer-specific branding, the kiosk can also be individually adapted to customer requirements in terms of the number of displays and screen sizes.
The self-service gift card kiosk uses a touchscreen display, allowing customers to select a gift card of their choice from different service vendors and retailers. A range of designs is then presented to choose from, including seasonal options, and a desired cash value amount selected. A personal message can also be added. The personalized gift card is then printed directly at the kiosk.
Depending on the application, Pyramid polytouch kiosks may be fitted with a broad range of peripherals including 2D or 3D scanners, thermal printers and payment modules of various makes and models. For special applications that may involve AI technology, Pyramid can integrate peripherals such as cameras into the display frame to achieve the best results.
Source: Kiosk Marketplace