24 November 2021
Carrefour teams with AiFi on autonomous store in Paris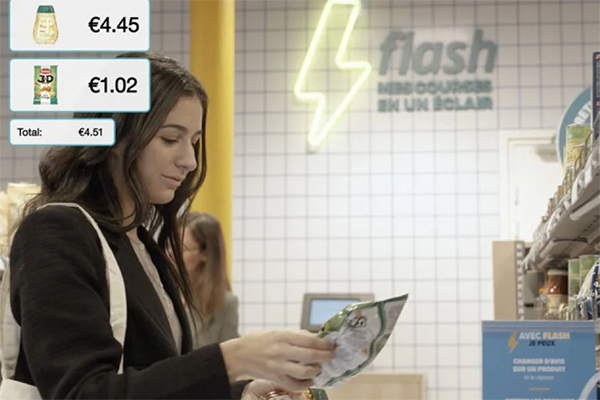 The Carrefour Group, the Paris based global food retailer, will partner with AiFi, a provider of AI enabled autonomous shopping technology, to introduce an automated store, Carrefour Flash, in Paris, according to a press release.
Flash 10/10 features a shopping journey that does not involve having to scan any products and payment that is almost instantaneous. Customers don't even have to take their items out of their bag.
Customers are free to enter and exit the store without having to pass through a gateway. There is no need to download an app or register beforehand, and customers can view their total spend in real time.
Four employees will be on-hand to open the store and oversee its operation.
The store has 60 HD cameras, nearly 2,000 sensors built into the connected shelves, an algorithm for interpreting all the data and a proprietary tablet payment system.
Customers are tracked anonymously as a virtual avatar, allocated to them as soon as they enter the store. The products that they pick up are automatically detected and then added to their virtual basket. Once they have finished shopping, customers just get their baskets validated at a kiosk and then pay contactlessly. They can get an electronic receipt sent to them immediately simply by scanning a QR code. An automatic checkout kiosk is also available for any customers wishing to pay with cash.
Carrefour Flash was tested at Carrefour's head office in Massy more than a year ago.
In March 2021, Carrefour Brazil launched Flash Scan & Go – a store where customers can use their smartphones to shop and pay for products. Six such stores are currently in operation in Brazil, and the subsidiary is planning on opening another eight before the end of the year.
In September, Carrefour launched its «Carrefour City+» concept in Dubai.
Source: Kiosk Marketplace