21 November 2022
Luxembourg law firm deploys touchless kiosk for staff communication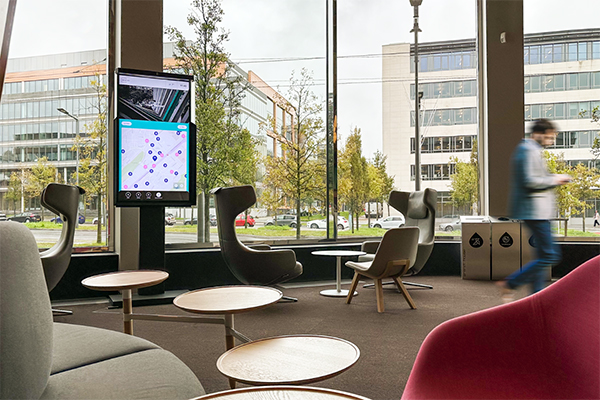 Arendt, a law firm with more than 1,000 employees in Luxembourg, was seeking an interactive solution to create a channel of communication with its staff, and it chose a touchless solution enabling safe interactions to equip each coffee corner of its two buildings, according to a press release.
The interactive displays allow employees to interact with various modules such as real-time traffic conditions, upcoming events, restaurant menus, internal communications and downloads. Employees can also share their thoughts replying to surveys, browse the photo reports to remember past events and share the screen with colleagues.
The company's marketing and communications team manages the interactive content using SKA, an Azure cloud-based software platform developed by iNUI Studio.
Based on proprietary image processing algorithms, the patented Air Touch technology delivers mid-air interaction (4 cm from the screen) and allows click, double-click, drag and drop, slide and zoom interactions – with a precision of 3 mm.
The Air Touch kiosk integrates the Samsung Electronics QMB Series 55-inch display.
«The usage statistics are very encouraging and this new format allows us to communicate more creatively on a wide variety of subjects,» Marie-Adélaïde Leclercq-Olhagaray, director of marketing and ommunications at Arendt, said in the press release.
«The interactive Air Touch kiosk in combination with iNUI's software platform allows organizations to help their employees feel heard, improve efficiency and provide an entertaining experience,» Kristof Willems, head of product management at Samsung Benelux, said in the release. «Samsung's professional displays have been an essential part in creating this stable and safe environment that performs on the highest level.»
Source: Kiosk Marketplace