24 January 2023
Bitstop founders buy world's largest bitcoin ATM software provider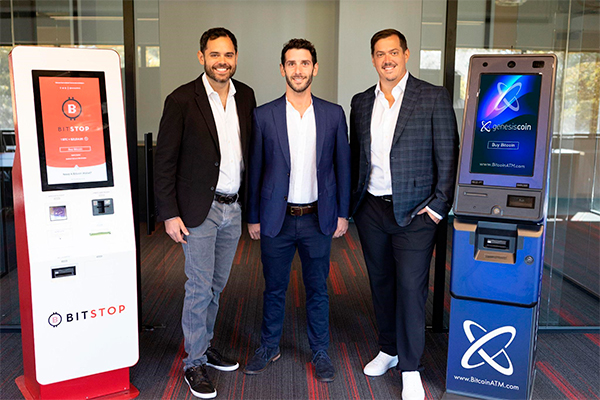 Andrew Barnard and Doug Carrillo, co-founders of Bitstop, have purchased Genesis Coin Inc., the largest bitcoin ATM software platform. Bitstop and Genesis Coin will operate more than 12,000 bitcoin ATMs in the U.S., according to a press release.
«Genesis Coin gave birth to the bitcoin ATM industry,» Barnard said in the release. «It's the first and largest bitcoin ATM software platform in the world. Evan built a platform trusted by some of the largest bitcoin ATM operators in our industry, both domestically and internationally, including the Chivo network in partnership with the government of El Salvador.»
Barnard will become CEO and Carrillo will become chief strategy officer and join the board of directors, according to the release. Evan Rose, founder of Genesis Coin, will remain a member of the board and stay on as a technical advisor. In addition, the Genesis Coin headquarters will move from Puerto Rico to Miami, Florida.
Bitstop and Genesis Coin will run independently, for now, as the companies work out synergies.
«This acquisition represents the most significant event in the bitcoin ATM industry to date,» Carrillo said in the release. «Our commitment is to provide Genesis Coin with the proper resources it needs to pave the way for continued growth and innovation. We truly believe that this new combination of the best minds in our space will be the catalyst for the bitcoin ATM industry evolving into its next phase. We are hyper- focused on building the best software for Bitcoin ATMs in the world. Today, the most sophisticated operators in our industry rely on Genesis Coin and Bitstop technology to power their businesses. As a result, we have become 'The Standard' in the bitcoin ATM space where virtually all industry organic activity today is occurring on the Genesis Coin and Bitstop networks.»
Source: ATM Marketplace