23 December 2020
The SAGA devices in the X5 Retail Group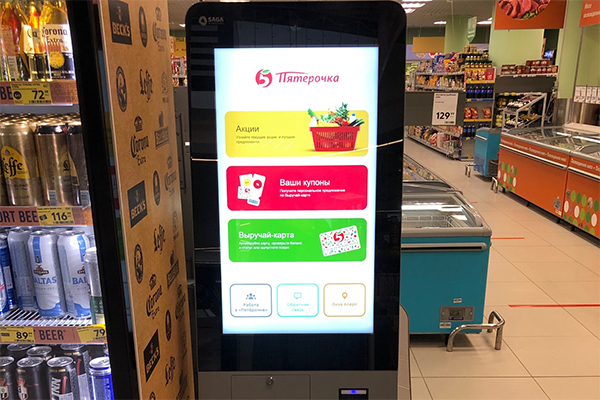 In the beginning of 2020 the SAGA Technologies company won a bidding of the X5 Retail Group for the supply of informational terminals and self-checkout lanes.
In April 2020 the first self-checkout lanes were supplied to the new and renovated X5 Retail Group stores, and in June 2020 under the pilot project the digital informational assistants for customers were installed.
Below you can see the part of the video presentation, prepared by the X5 Retail Group press relations service.
You can see the full video here.
For reference:
The X5 Retail Group is the leading Russian food retail company. It controls shops of the several retail networks: «easy reach» «Pyaterochka» shops, «Perekrestok» department stores and «Karusel» hypermarkets.
As for September 30, 2020 the company controlled 17352 stores and held the leading positions in Moscow and Saint Petersburg and with significant presence in the European Russia.
The network comprises 16385 «Pyaterochka», 910 «Perekrestok» shops and 57 «Karusel» hypermarkets.
Source: The SAGA Corporation press relations service